Hi,
i have this shiny new MacBook Pro M1 upgrading from my old MacBook Pro mid-2012 !!
It's lighter, speedier, better all around… BUT
I install apps one at a time to make a manual clean install. InDesign CC 2021 & Script Debugger 8 were part of the first batch of installs as i'm mostly develop AS scripts for InDesign.
A script that i develop right now is working well on my old computer and stopped working when run from InDesign on my new computer.
What i found is that it throws errors (-1743 "Not authorised to send Apple events to System Events/Finder") when it encounter a "Finder" or "Apple Events" tell block (the apps other than InDesign that i call in my script).
I searched online, compared the 2 computers and found that the automation panels of the security preferences were different (see captures below):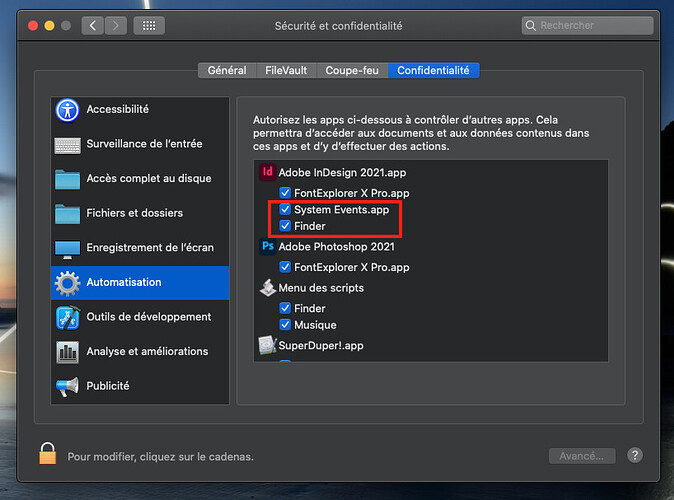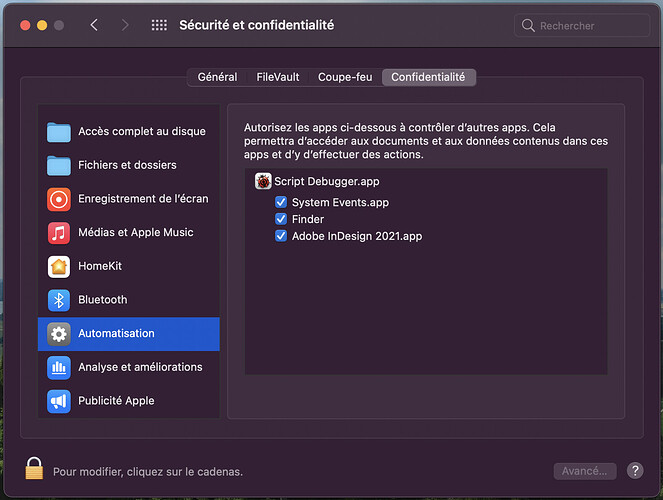 In my new computer, no Indesign as source and so, no targets for it. And i can't find a way to authorise InDesign to control Finder and Apple Events.
my script begin with those use lines (if useful for the resolution of my problem?):
use AppleScript version "2.5"
use framework "Foundation"
use scripting additions
use BP : script "BridgePlus" version "1.3.4"
My configurations:
old mac: macBook Pro 13" mid-2012, macOS 10.15.7, InDesign 16.3.2, Script Debugger 8.0.1
new mac: macBook Pro 13" M1 2020, macOS 11.4, InDesign 16.3.2, Script Debugger 8.0.1
Thanks for your help!