Continuing the discussion from RegexAndStuffLib Script Library:
@ShaneStanley, I love your Regex Lib and it always works great from SD7.
But I'm getting this error running my complex scripts and your simple example script from FastScripts: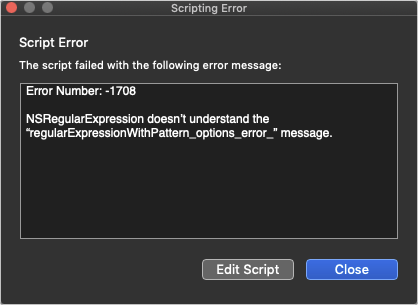 Error Number: -1708

NSRegularExpression doesn't understand the "regularExpressionWithPattern_options_error_" message.
I get the same error running from Keyboard Maestro.
Running Fastscripts 2.7.8 (817) on macOS 10.14.5 (Mojave).
The first few times I ran the script worked fine. Then, for no apparent reason, it starting throwing this error. Same with my complex script.
Any ideas?
Here's the script:
use AppleScript version "2.5"
use framework "Foundation"
use framework "AppKit" -- this may not be required
use scripting additions

use script "RegexAndStuffLib" version "1.0.3"

set newStr to regex change "one two three" search pattern "t(.?)" replace template "t**$1**"

set currentApp to path to frontmost application as text

tell application currentApp
  set msgStr to newStr
  set msgTitleStr to "Test RegexAndStuff Lib"
  display dialog msgStr with title msgTitleStr
end tell

--> "one t**w**o t**h**ree"
return newStr