Hello,
I'd like to automate printing PPT slides to PDFs.
I adapted the code from elsewhere but the code is not working.
The problems:
Although I set the print out parameter to print to file, but it will still send to the default printer (with parameter without showDialog).
The print options does not seem to work either (with parameter with showDialog, the Dialog sheet does not reflect the print options properties.).
Here is the code:
set filepath to ((path to desktop) as Unicode text) & "myfile.pdf"
tell application "Microsoft PowerPoint"
	set myPres to the active presentation
	set myPrintOpts to the print options of myPres
	tell myPrintOpts
		set print color type to print color
		set output type to print four slide handouts
		set print hidden slides to false
		set range type to print range all
	end tell
	print out myPres ¬
		print to file filepath ¬
		without showDialog
end tell

the AppleScript Dictionary of MS PowerPoint shows that the print to file parameter type is text. It doesn't say it should be the path of the output PDF file. So maybe I'm misunderstanding the command?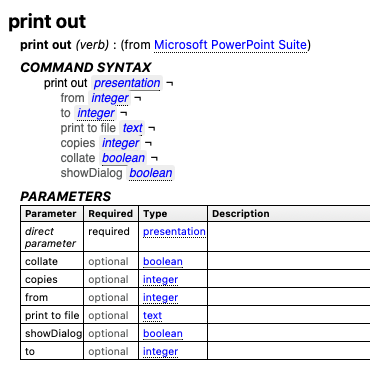 Any help appreciated!