I need to merge one list of records with a second identically structured list, overwriting records that are duplicates. Duplicate status is determined by a unique ID. The use case is that this is a cache (for an Alfred script filter) that needs to be updated periodically.
The data structure looks like this: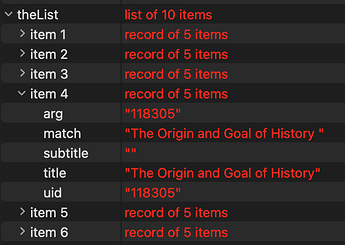 This merging is easily accomplished using AppleScript's repeat loops, if one is dealing with tens or hundreds of records. However, it becomes completely inadequate when dealing with thousands of records. So, this calls for ASObC!
I've been working through @ShaneStanley's wonderful 'Everyday AppleScriptObjC' but it's a lot to take in and I've not found a solution yet.
The simplest approach would seem to be to take every uid in list 2, check if it exists in list 1, delete that record if it does, and then concatenate the two lists. Removing the duplicated records is easy, given the removeObjectsAtIndexes: method. What I'm missing, however, is how to get the index of a record based upon the value of one of its contents—in this case the uid.
Any advice would be greatly appreciated!