I originally bought SD 6.0, and received "Script Debugger 6.0 [SKU86652914809] Serial Number: " xxx-xxx, etc. (not the real number obviously).
I then upgraded to 7.0, and received "Here are your Script Debugger 6.0 to 7.0 Upgrade registration number(s):" yyy-yyy-etc.
I've now bought an upgrade to 8.0, and enter the serial number I received yesterday; but then I get this prompt, and both the xxx-xxx or yyy-yyy serial numbers are rejected as invalid, so I can't register 8.0.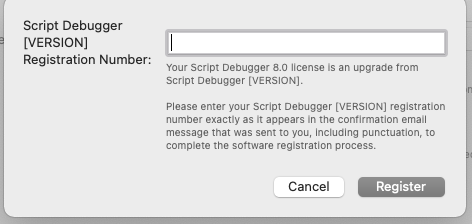 Is there a way to fix this? Was I right to buy an upgrade registration in the first place?