Shane's Script Library Pack
This is an application that includes copies of the Myriad Tables Lib, SQLite Lib2 and BridgePlus script libraries, with the frameworks compiled in universal format (that is, for both Intel and Apple Silicon Macs). The versions are otherwise identical to the previous Intel-only versions listed below.

The libraries are being distributed within an application. To use them, mount the disk image, drag the applet to your startup disk, preferably in ~/Applications/ or ~/Library/Script Libraries/, and launch it. Once you approve it, quit it and launch it again. You can then quit it, and the libraries will be available to your scripts until you delete the application. You do not need to keep it running. The application also gives you the option to export the relevant documentation.
Shane, thanks again for sharing all of your great script libraries❗
I have read all of your documentation that goes with this app, and I am still unclear on how to actually reference each Script Library in SD7.
Although this works:
use sqlLib : script "SQLite Lib2"

set thePath to (path to desktop as text) & "Testing.db"
set myDb to open db in file thePath with can create
update db myDb sql string "create table test (a, b, c, d)"
-- do other stuff here
close db myDb

the script libraries in the app do NOT show up with other libraries: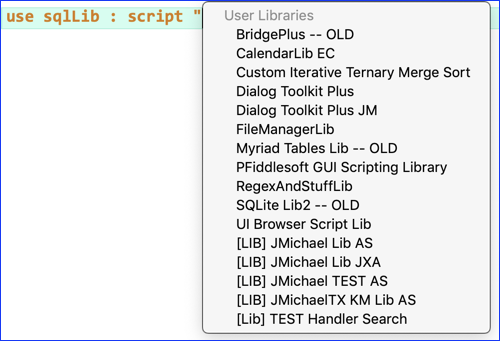 and I don't see a reference to the scripting dictionaries for these in SD7.
I did see an option to EXPORT the libraries when I choose "More" from the app: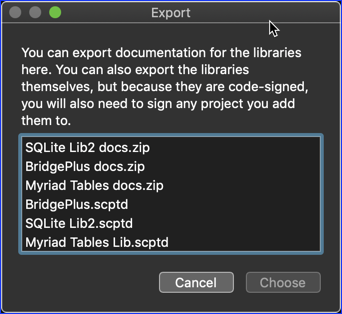 So, what is the best practice for SD7?