Given the Network Preferences, and AppleScript support for that, I thought this should be straight forward. But I can't find an AppleScript solution, even though I've searched extensively.
I need a handler/function that returns true/false to isEthernetConnected()
Here's what it looks like in Network Preferences:
CONNECTED: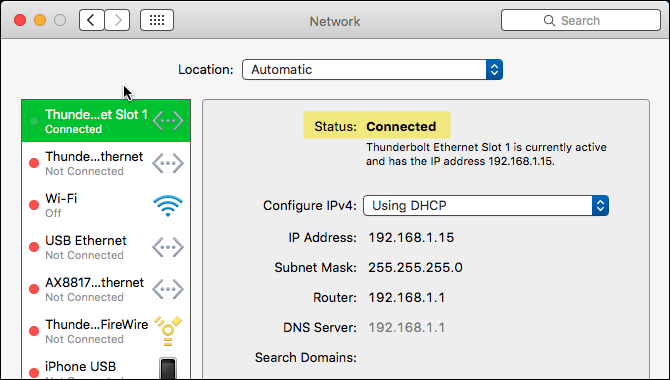 .
NOT CONNECTED: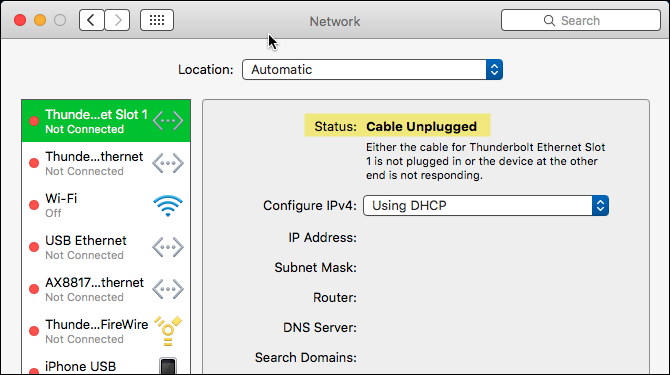 .
But I do NOT see this "Status" field/property in the Network Preferences service item.
@ccstone suggested this:
ifconfig -a

and then search for
media: autoselect (100baseTX ) status: active

That almost works, but I had to change it to "1000baseT".
But I'd really like to have a direct AppleScript or ASObjC solution, if there is one.
Any ideas?
Test Script
tell application "System Events"
  
  tell network preferences
    --- no help here ---
    set netProp to properties
  end tell
  
  tell current location of network preferences
    
    set serviceList to every service -- WORKS
    
    --- this works, but don't see any properties that indicate status ---
    set enetService to service "Thunderbolt Ethernet Slot 1"
    
    --- this is "missing value" ---
    set enetConfig to current configuration of enetService
    
    --- Unfortunately this is not cleared when the cable is disconnected ---
    set macAddr to MAC address of interface of enetService
    
  end tell
end tell

RESULTS