Wow! I could never remember all of those shortcuts. Of course you do have the FS menu.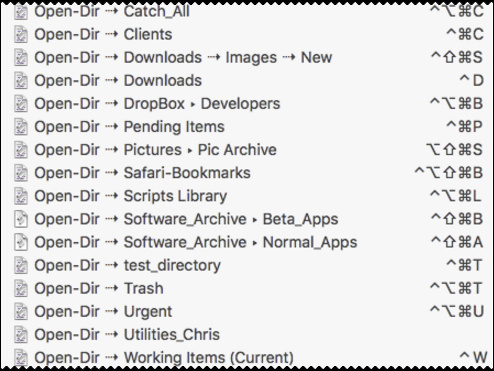 I use Default Folder X and the Finder Favorites panel for accessing my frequent folders. LaunchBar also works great for this, since I only have to type a few characters in the folder name to select it.
Chris, I know you prefer FastScripts over Keyboard Maestro for triggering a lot of your scripts, but I prefer KM. For some time I have been using KM to assign almost all of my custom shortcuts/hotkeys for all apps, so that I have all of these in one place: KM. I don't even use the macOS Preferences any more. Having them in KM makes it easy to have all of my Macs using the same shortcuts.
While there is a small performance hit for executing a script from KM, I have not noticed any material delays or differences for my scripts. All seem to run very fast to me. But then I'm using a very fast Mac. I do generally set the KM Action to execute a script file, rather than text.